Has Your Brocade® 48000 Been Orphaned?
Customers are scurrying to find support for their Brocade® 48000 (48k) SAN directors as Brocade® terminated support on February 17, 2016. To bridge the gap TeamKCI has assumed a major support role for this legacy mainstay director.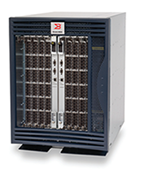 We are subject matter experts on all things Brocade®. We store a complete complement of spares on your premises to facilitate rapid repairs. Provide 24 x 7 tech support with trained Brocade® specialists; offer four-hour onsite response time. All at 80% below the manufacturer's list price.
We not only maintain the Brocade® 48k but we also maintain all badged counterparts sold EMC®, IBM®, HP®, HDS and NetApp®.
Don't get caught without support on your critical infrastructure. Call or email TeamKCI today and we will pick up coverage immediately.
Brocade® is the registered trademark of Broadcom Inc.
NetApp® is registered trademarks of NetApp, Inc.
IBM is trademarks of International Business Machines Corporation, registered in many jurisdictions worldwide.
EMC is registered trademarks of EMC Corporation in the United States and/or other countries.