TeamKCI Blended Cisco® Support
If you find you can't get full maintenance support for Cisco® MDS 9513 directors because some of the blades are no longer supported under SMARTnet® we would like to suggest TeamKCI Blended Cisco® Support. Here is how it works: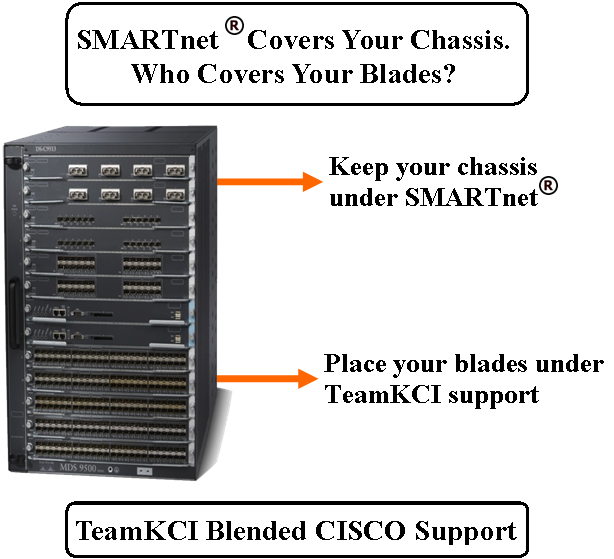 We first note that Cisco® 9513 MDS director chassis are not End-of-Life (EOL) though many of the blades in them are, and some 9513 port blades have reached End-of-Support. Many Cisco® customers will have MDS 9513 director chassis that are eligible for maintenance under Cisco®  SMARTnet® program, while the blades inside these directors are not supported. The dilemma for most customers is making sure that both the MDS 9513 chassis and the port blades are covered.
Enter the TeamKCI Blended Cisco® Support program. We encourage our customers with eligible 9513 MDS directors to keep them under SMARTnet® while at the same time putting their MDS port blades not eligible for SMARTnet® under TeamKCI support. The chassis and corresponding software and firmware will be covered under SMARTnet®. TeamKCI covers all the blades that Cisco® no longer covers. We maintain the blades; Cisco® maintains the chassis while you enjoy the benefits. We offer NBD parts or guaranteed 4-hour onsite response, whichever you prefer. Since we do not maintain the chassis, the OS, or the firmware, your Cisco® MDS 9513 will remain under Cisco® SMARTnet® support.
​The TeamKCI Blended Cisco® Support program is the perfect alternative to taking the risk that part of your Cisco® 9513 is not covered. And our blended support program is priced well below original Cisco® manufacturer's pricing. In addition to the Cisco® MDS 9513, TeamKCI maintains many other Cisco® machines including Cisco® MDS 9000 models and the Cisco® MDS 9509, Cisco® WS 2960, Cisco® catalyst 4500 Series Switches, Cisco® Catalyst 6500 and 6500 E series, Cisco® 2800. TeamKCI also has premier Cisco® Hardware Sales.
One fifteen minute call with one of our specialists will make you a believer. Don't delay. Let us know when you are available and we'll show you how to keep your MDS 9513 director fully covered.
Cisco® is registered trademark of Cisco Systems, Inc. and/or its affiliates in the
United States and certain other countries.