HP ProCurve J9049A EOL Maintenance and Support
HP® End of Support date: October 1, 2014
Status: Supported by TeamKCI

Request A Quote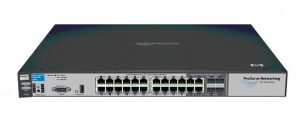 TeamKCI has extensive hands on experience with the HP ProCurve J9049A switch and continues to maintain and repair them. Parts and replacement units are in stock and can ship overnight.
TeamKCI will continue to support these units for as long as you use them.
Overview
Let TeamKCI help you design the most cost-effective Storage Area Network Solution.
The HP StorageWorks 2/16V SAN switch provides 16 ports in a single 1U enclosure with auto-sensing 1 and 2 Gbps interfaces for seamless integration with existing fabrics. The HP StorageWorks 2/16V SAN switch offers an optional license which increases switch scaling from four switches to full SAN configurations.
Used & Refurbished HP Options TeamKCI sells both new and refurbished equipment.  Used HP systems are available at big savings offering our customers alternative financial options to maximize their IT dollars.
Warranty & Support TeamKCI offers a 12 month warranty and 9-5 technical support on all refurbished HP ProCurve J9049A SAN switches and all other pre-owned refurbished HP SAN equipment we sell.  Extended warranties and 24x7x4 onsite support are also available for an additional charge.  Learn more.
How to Get Started? For more information on a HP ProCurve J9049A SAN switch or any other HP product simply complete the TeamKCI Quick Quote form on this page or call TeamKCI at 201-934-6500 Ext. 11 for immediate assistance.
TechSpecs
Technical Specifications
Connectivity
Routing/switching capacity
Networking
Address table size
Management features

ProCurve Manager (included); ProCurve Manager Plus; command line interface; Web browser; configuration menu; out-of-band management (serial RS-232C)

Latency

1000 MB < 6 µs; 10 Gbps < 10 µs

Memory and processor

Processor: Motorola PowerPC MPC8245 @ 266 MHz processor; Dual flash; Packet buffer size: 4 MB (1 MB per 12 ports); Flash Capacity: 16 MB; SDRAM: 128 MB

Performance
Throughput
Ports
External I/O ports

1 open module slot; 44 auto-sensing 10/100/1000 ports (IEEE 802.3 Type 10Base-T, IEEE 802.3u Type 100Base-TX, IEEE 802.3ab Type 1000Base-T); Duplex: 10Base-T/100Base-TX: half or full; 1000Base-T: full only; Media type: IEEE Auto-MDIX; 1 RS-232C DB-9 console port; 4 dual-personality ports – each port can be used as either an RJ-45 10/100/1000 port (IEEE 802.3 Type 10Base-T; IEEE 802.3u Type 100Base-TX; IEEE 802.3ab 1000Base-T Gigabit Ethernet) or an open mini-GBIC slot (for use with mini-GBIC transceivers)

Power
Power availability
Power features

The switch automatically adjusts to any voltage between 100-127 and 200-240 V and either 50 or 60 Hz

Power consumption
Power requirements

100-127 VAC/200-240 VAC; 50/60 Hz

Rack
Rack mounting

Mounts in an EIA-standard 19 in. telco rack or equipment cabinet (hardware included); horizontal surface mounting only.
Environmental information
| | |
| --- | --- |
| Operating temperature range | 0° to 40° C |
| Heat dissipation | 482 BTU/hr |
| Acoustic pressure emissions | Power: 53 dB; DIN 45635T.19 per ISO 7779 |
| Operating altitude | 4,500 m |
| | |
| --- | --- |
| Electromagnetic compatibility | FCC Class A; VCCI Class A; EN55022/CISPR-22 Class A |
| Safety | CSA 22.2 No. 60950; UL 60950; EN 60950/IEC 60950 |
| Compliance industry standards | EN: EN55024/CISPR 24; ESD: IEC61000-4-2, 4 kV CD, 8 kV AD; Radiated: IEC61000-4-3, 3V/m; EFT/Burst: IEC61000-4-4, 1.0 kV (power line), 0.5 kV (signal line); Surge: IEC61000-4-5, 1 kV/2 kV AC; Conducted: IEC61000-4-6, 3V; Power frequency magnetic field: IEC 61000-4-8, 1A/m, 50 or 60 Hz; Voltage dips and interruptions: IEC61000-4-11, >95% reduction, 0.5 period: 30% reduction, 25 periods; Harmonics: EN61000-3-2/IEC 61000-3-2; Flicker: EN61000-3-3/IEC 61000-3-3 |
| | |
| --- | --- |
| Product weight | 4.92 kg |
| Product dimensions (W x D x H) | 44 x 43 x 4.4 cm |