Cisco® WS-C2360 Switch EOL Maintenance and Support
End-of-Support
Cisco® End-of-Support Date: July 31, 2018
Status: Supported by TeamKCI

Request A Quote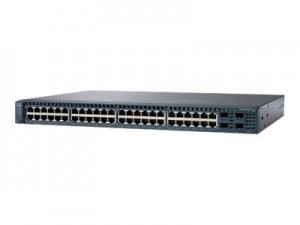 End-of-Life (EOL)
TeamKCI has extensive hands on experience with Cisco® WS-C2360 switches and continues to maintain and repair them. We can also supply additional and replacement units.


Overview
Let TeamKCI help you design the most cost-effective Cisco® Network Solution.
Used & Refurbished Cisco® Options
Support – TeamKCI is the leading maintenance provider of Cisco® legacy hardware, offering premier support with four attractive SLAs: 24 x 7 x 4hour onsite response; 11 x 5 x 4hour onsite response time 24 x 7 NBD response; 9 x 5 NBD response. Round-the-clock tech support is standard with each SLA. We guaranty you will speak to a qualified engineer within 15 minutes of placing a service call any time of day or night. We support call home and dial-in features. And, will even store spare parts on your premises at no additional cost. You won't find better third-party Cisco® support anywhere.
Hardware – TeamKCI sells pre-owned tested and guaranteed Cisco® switches, directors, remote switches and routers at huge savings over the manufacturer's list price. All pre-owned Cisco® hardware is meticulously tested, and burned in for 24 hours. Checkout TeamKCI prices. TeamKCI is the financial alternative option that will maximize your IT dollar. Coupled with our 90-day replacement warranty.
Warranty & Support – TeamKCI offers a 90-day warranty and 9-5 technical support on all refurbished Cisco® WS-2360 and all other pre-owned refurbished Cisco® SAN equipment we sell including the Cisco® WS-2960.  Extended warranties and 24x7x4 onsite support are also available for an additional charge.  Learn more.
How to Get Started?
For more information on a Cisco® WS-C2360 or any other Cisco® product simply complete the TeamKCI Quick Quote form on this page or call TeamKCI at 201-934-6500 Ext. 11 for immediate assistance.
Configurations
Configurations
Cisco® Catalyst 2360 Series

10 gigabit uplinks and 10/100/1000- Gbps Ethernet connectivity

Cisco® Catalyst 2360-48TD-S Switch

48X Ethernet 10/100/1000- Gbps ports
End-of-Life
Cisco® WS-C2360 End-of-Life Notification
On January 28,2013 Cisco® issued an End of Life Statement for the WS-C2360. However…
DON'T BE CONCERNED WITH MANUFACTURERS' END-OF-SUPPORT DATES. TeamKCI has no End-of-Life (EOL) or End-of-Support (EOS) dates. We are EOL/EOS & Legacy Equipment & Maintenance Specialists and promise to maintain your legacy equipment for as long as you choose to use it.
For a fast and accurate quote, click and submit the Quick Quote form on the right.
Maintenance
TeamKCI maintenance services offer:
Spare parts stored on premises to facilitate rapid repairs and ensure that most problems can be handled with a single maintenance call.
Utilization of machine resident "dial-in" and "call home" features to quickly identify and diagnose anomalies before they become major problems.
A 24 x 7 response capability that allows our customers to speak with a product specialist within thirty minutes of placing a call any time of day or night.
On site response time of four hours or less.
Our pledge to only use tested OEM parts.
Prices that are at a minimum 50% less than the OEM's list price.
Our promise to maintain your legacy equipment for as long as you choose to use it. TeamKCI has no End-of-Life or End-of-Support dates. We have never dropped service on any product we accepted for maintenance until our very last customer had stopped using it.
A lifetime rate guarantee never to escalate your initial rate.
Operational software support for all software and firmware you are using at its current EC level.
Cisco® is registered trademark of Cisco Systems, Inc. and/or its affiliates in the United States and certain other countries.