EOL ALERT: Brocade® DCX® 8510® is End-of-Life. What's your plan?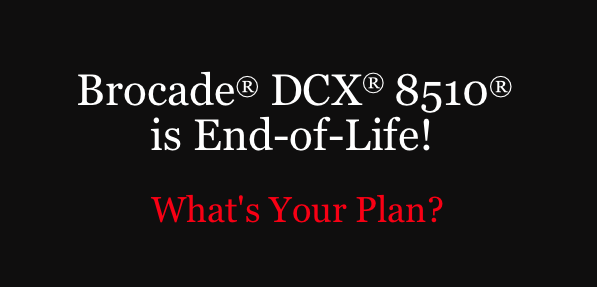 Brocade Communications Systems has designated its flagship DCX 8510 director End-of-Life effective October 31, 2019. Originally introduced in May 2011, the DCX 8510 has been an active Brocade product for almost nine years and stands today as the leading Gen5 16 Gbps SAN director in the world.
End-of-Life means new development on these systems has stopped as Brocade concentrates on its newly introduced, highly successful X6 directors. Because of this, it's time to look for a high quality, low price alternative to the manufacturer's support. Here's where we come in.
TeamKCI has been servicing switching equipment since 1982, thirteen years before Brocade was even incorporated. We maintain the entire Brocade Gen5 product line and all Brocade equipment that came before it at a small fraction of Brocade's original maintenance price. TeamKCI support includes 24×7 tech support, utilization of the dial-in and call home features, plus spares stored locally.
We're offering savings of as much as $1500 per month per director off the manufacturer's list price.
It's the perfect time to start saving on your 2020 OPEX budget.