EMC® ED-48000B Nears End-of-Support Date
In May 2005, Brocade® introduced its then flagship 48000 director, a 4 Gbps director with an eight (8) blade capacity, each blade capable of at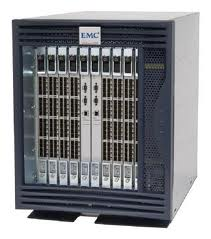 taching up to 48 ports, for a total capacity of 384 ports. EMC® re-branded the 48K and sold it as the ED-48000B.  It was designed by Brocade® to compete with McData® and Cisco® its two main rivals (at the time) in the director space. Back then the EMC® ED-48000B (Brocade® 48K) was "state of the art".  Now it is a bit old – legacy if you will – and was designated End-of-Life in January 2011 roughly five and one half years after its introduction. Soon, on January 31, 2016, the EMC® ED-48000B will reach its End-of-Support date with EMC®.
There is no need to panic or make a quick decision to upgrade. TeamKCI will pick up support the day your EMC® support contract runs out. No need to squirrel away parts, buy spare machines to store in your parts closet or read up on maintenance procedures. TeamKCI will maintain your EMC® ED-48000B as good as or even better than the manufacturer at prices that will shock you and make you wonder why you didn't move your EMC® ED-48000B maintenance over to TeamKCI earlier.
We guaranty that you will be able to talk to a technical specialist within fifteen minutes of making a service call any time of day or night. Four-hour onsite response time (though in reality we average less than two hours). A full complement of spare parts stored on premises to facilitate rapid repairs. Product engineers who speak the language and can help you reconfigure your ED-48000B or restore corrupted software. Top of the rack service at bottom of the rack prices. Exactly what you would expect from the leader in switching technology support.
Brocade® is the registered trademark of Broadcom Inc.
Cisco® is registered trademark of Cisco Systems, Inc. and/or its affiliates in the
United States and certain other countries.
EMC is a registered trademark of EMC Corporation in the United States and/or other countries.
McDATA® is a registered trademark of Brocade Communications.