In early August the Brocade® FastIron Edge X, a former star in the Brocade®/Foundry® product line, reached End-of-Support (EOS). This announcement followed July's announcement that the Brocade®/Foundry® BigIron RX had also reached EOS.
In October 2018, the MLX-4-S, MLX-8-S and the MLX-16-S will reach End-of-Support. These End-of-Support status changes come after seven other Foundry® products reached EOS from July 2016 through July 2018.
This will be followed by four more scheduled product EOS announcements slated for the first half of 2019, including the flagship FastIron SX Series. All told Brocade®'s pledge to get out of the IP business is coming true faster than many thought.
Brocade®/Foundry® End-of-Support Table
(Includes Upcoming Announcement)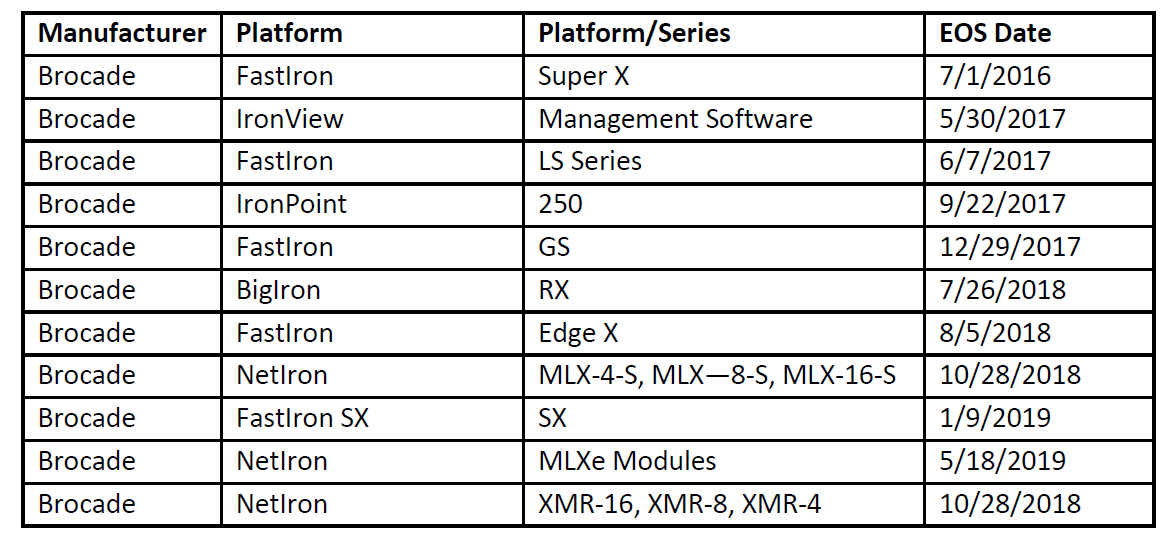 If you are concerned about support for your legacy Brocade®/Foundry® network, call, write or email TeamKCI. You can also contact us via social media. We'll support your Foundry® platforms for as long as you wish to use them. We'll also charge you a lot less to maintain these platforms than Brocade® did when they were still willing to maintain them.
Whatever is left of your Foundry® FastIron, ServerIron, BigIron, TurboIron, and EdgeIron platforms TeamKCI will support it to the highest standards for far less than Broadcom, Brocade® or Foundry® ever charged you.
Think of us as the alternative…The Switch Capital of the World, since 1982.
Brocade® is the registered trademark of Broadcom Inc.