IBM 2027-R04 SAN Router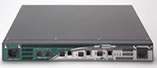 IBM 2027-R04
TeamKCI has extensive hands on experience with IBM 2027-R04 routers and continues to maintain and repair them. We can also supply additional and replacement units.

Overview
Let TeamKCI help you design the most cost-effective IBM Storage Area Network Solution.
The IBM 2027-R04 SAN Router, also known as the IBM SAN04M-R, supports iSCSI, iFCP and R_Port for trunking both IP backbones and legacy Fibre Channel (FC) fabrics.  The IBM 2027-R04(SAN04M-R) connects to a wide range of end systems, including Fibre Channel, NAS and iSCSI initiators.  The IBM 2027-R04 (SAN04M-R) supports Ethernet and Gigabit FC switching over extended distances at wire speed.
Used & Refurbished McData Options
TeamKCI sells both new and refurbished equipment.  We are able to supply used & refurbished McData hardware directly to you. McData systems are vailable at big savings offering our customers alternative financial options to maximize their IT dollars.
Warranty & Support
TeamKCI offers a 12 month warranty and 9-5 technical support on all refurbished IBM 2027-R04 (SAN04M-R) SAN Router and all other pre-owned refurbished IBM SAN equipment we sell.  Extended warranties and 24x7x4 onsite support are also available for an additional charge.  Learn more.
How to Get Started?
For more information on a IBM 2027-R04 (SAN04M-R) or any other IBM product simply complete the TeamKCI Quick Quote form on this page or call TeamKCI at 201-934-6500 Ext. 11 for immediate assistance.
TechSpecs
Technical Specifications
| | |
| --- | --- |
| Maximum Ports: | 2 |
| Minimum Ports: | 2 |
| Port Speed: | 1/2 Gbps |
| Upgrade: | N/A |
| Redundant Power: | Yes |
| Rail Kit: | Yes |
| | |
| --- | --- |
| Note: | 2 1G Fibre Channel, 2 intelligent (intelligent ports provide TCP/IP support for connecting to IP campus or WAN backbones) |
Maintenance
TeamKCI maintenance services offer:
Spare parts stored on premises to facilitate rapid repairs and ensure that most problems can be handled with a single maintenance call.
A 24 x 7 response capability that allows our customers to speak with a product specialist within thirty minutes of placing a call any time of day or night.
On site response time of four hours or less.
Our pledge to only use tested OEM parts.
Prices that are at a minimum 50% less than the OEM's list price.
Our promise to maintain your legacy equipment for as long as you choose to use it. TeamKCI has no End-of-Life or End-of-Support dates. We have never dropped service on any product we accepted for maintenance until our very last customer had stopped using it.
A lifetime rate guarantee never to escalate your initial rate.
Operational software support for all software and firmware you are using at its current EC level.