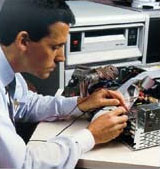 For over thirty years TeamKCI has supplied and supported storage, switching and connectivity products to America's largest corporations and government agencies. Over the years platforms and manufacturers have changed but the basic need to store, access and switch large volumes of data has grown exponentially. Across the span of three decades, from ESCON to Fibre Channel, TeamKCI has developed unique and exceptional technical competencies in SAN architecture, switching, storage, networking and connectivity.
TeamKCI SAN switching competencies include all SAN products manufactured by Brocade, McData, Cisco MDS, and QLogic. Storage expertise includes EMC, HDS, HP, IBM and Dell platforms. Network proficiencies include Cisco, Extreme and F10.
Over the years TeamKCI has been selected by many Fortune 500 companies as their vendor of choice. We support equipment around the world in countries like Brazil, England, Australia, Singapore and Denmark.
In March 2012, we were awarded the Verizon 2011 Supplier Recognition Award for Outstanding Performance in the IT Services Category at America's largest Telco.
In a time of shrinking budgets and increasing responsibilities, TeamKCI support stretches your maintenance budget and affords you the peace of mind, knowing that you have chosen the most qualified, cost effective and comprehensive support provider available.